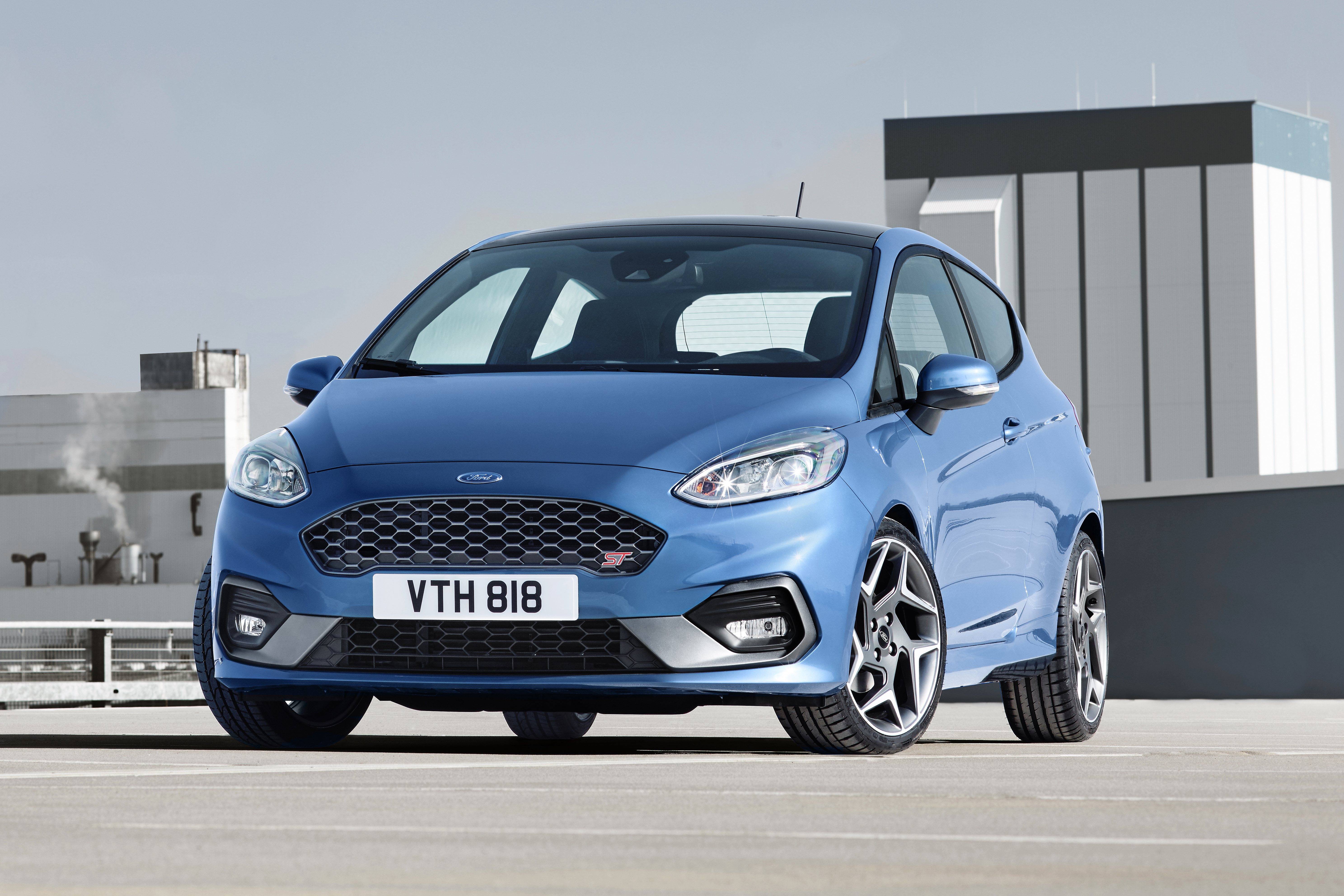 You only have to look down most residential streets in the UK to know that Brits love a hot hatch like the Ford Fiesta ST. 
When it comes to the performance, handling and cost — few segments can match the fun and daily usability of the hot hatch.
It's a simple but tried and tested formula: take a popular hatchback (like the Volkswagen Golf), give it a bit more power, tweak the suspension and chuck on a body kit. So, from pocket rockets like the Toyota GR Yaris to more understated hot hatches like the Skoda Octavia vRS, we've put together this list to help you narrow down your choice.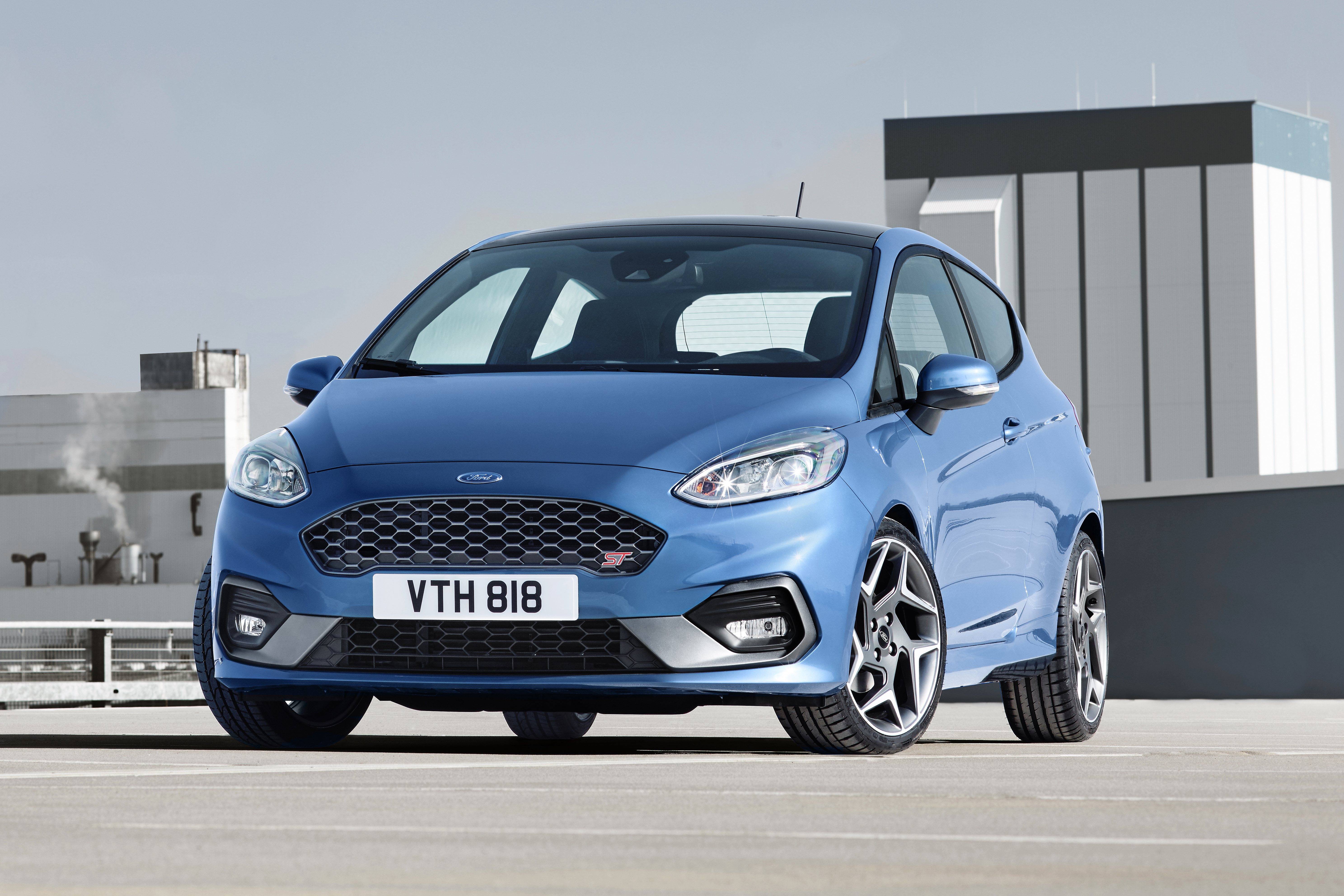 Ford Fiesta ST
The Fiesta ST has been the class leader of hot hatches since the previous generation model arrived. The 1.5-litre turbo petrol engine is key to the ST's appeal, but the real magic lies in its superb handling — as it should be with a hot hatch of this price.
While it hasn't got the sheer performance offered by the likes of the Honda Civic Type R — it's compact, powerful and surprisingly affordable. The Fiesta ST produces 200PS, reaches 62mph in 6.5 seconds and returns up to 40.4mpg — meaning you can have all of the high octane thrills, without those sky-high bills for fuel and insurance.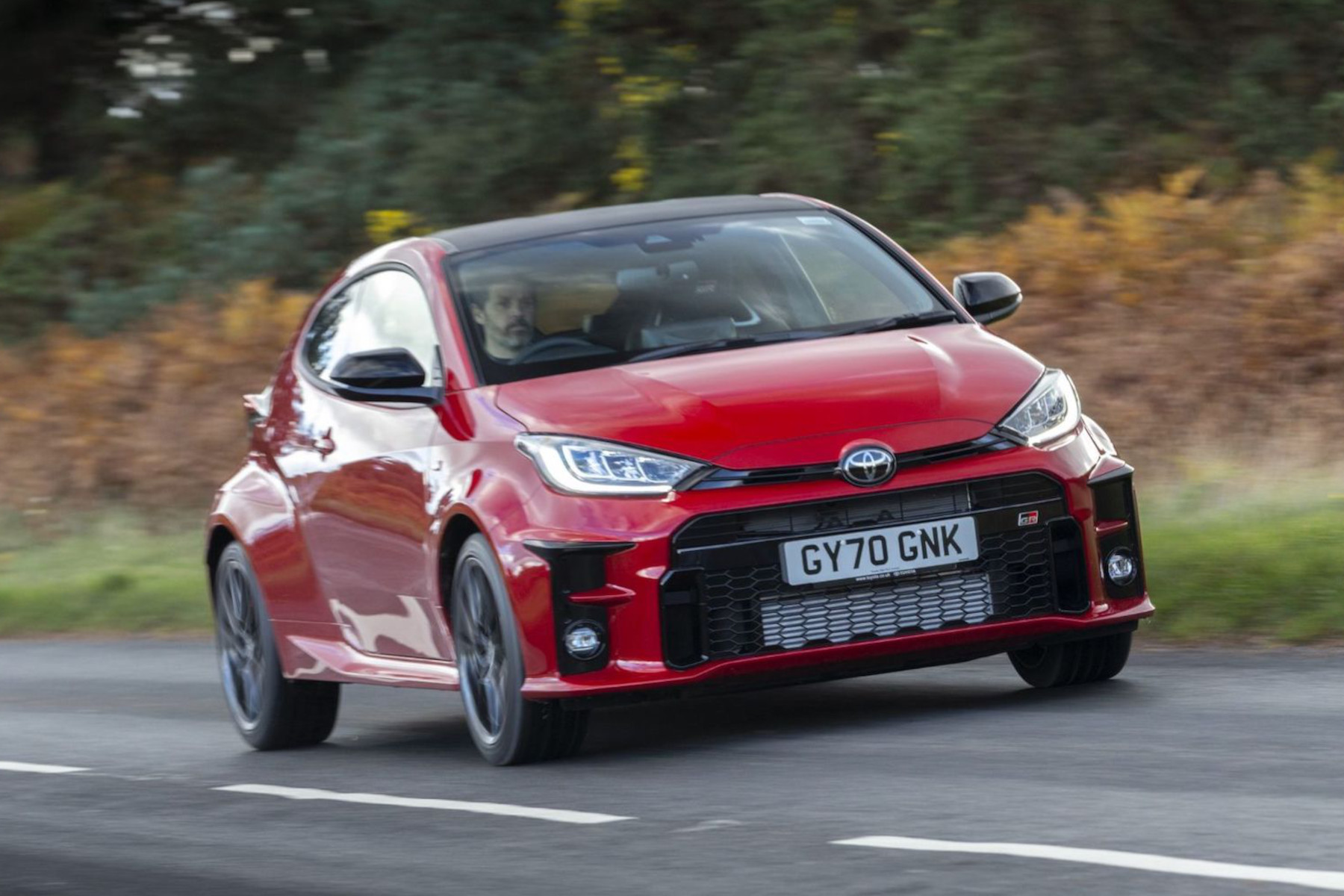 Toyota GR Yaris
The Toyota GR Yaris is a little gem. Instead of basing the hot hatch off of the standard Yaris, Toyota built the GR from the ground up with performance in mind — making what is, essentially, a rally car for the road. In fact, it only shares the lights and door mirrors with the standard model. It sports a 1.6-litre turbocharged three-cylinder engine, making 261PS, and a four-wheel-drive system with optional mechanical torque-vectoring. It can also reach 0-62mph in just 5.5 seconds.
The GR Yaris doesn't offer as much space and practicality as many of the other cars on this list, but it makes up for it by being somewhat rare in that it's an excellent and affordable performance car. It's also a truly bespoke model, courtesy of Toyota's motorsport division — Gazoo Racing.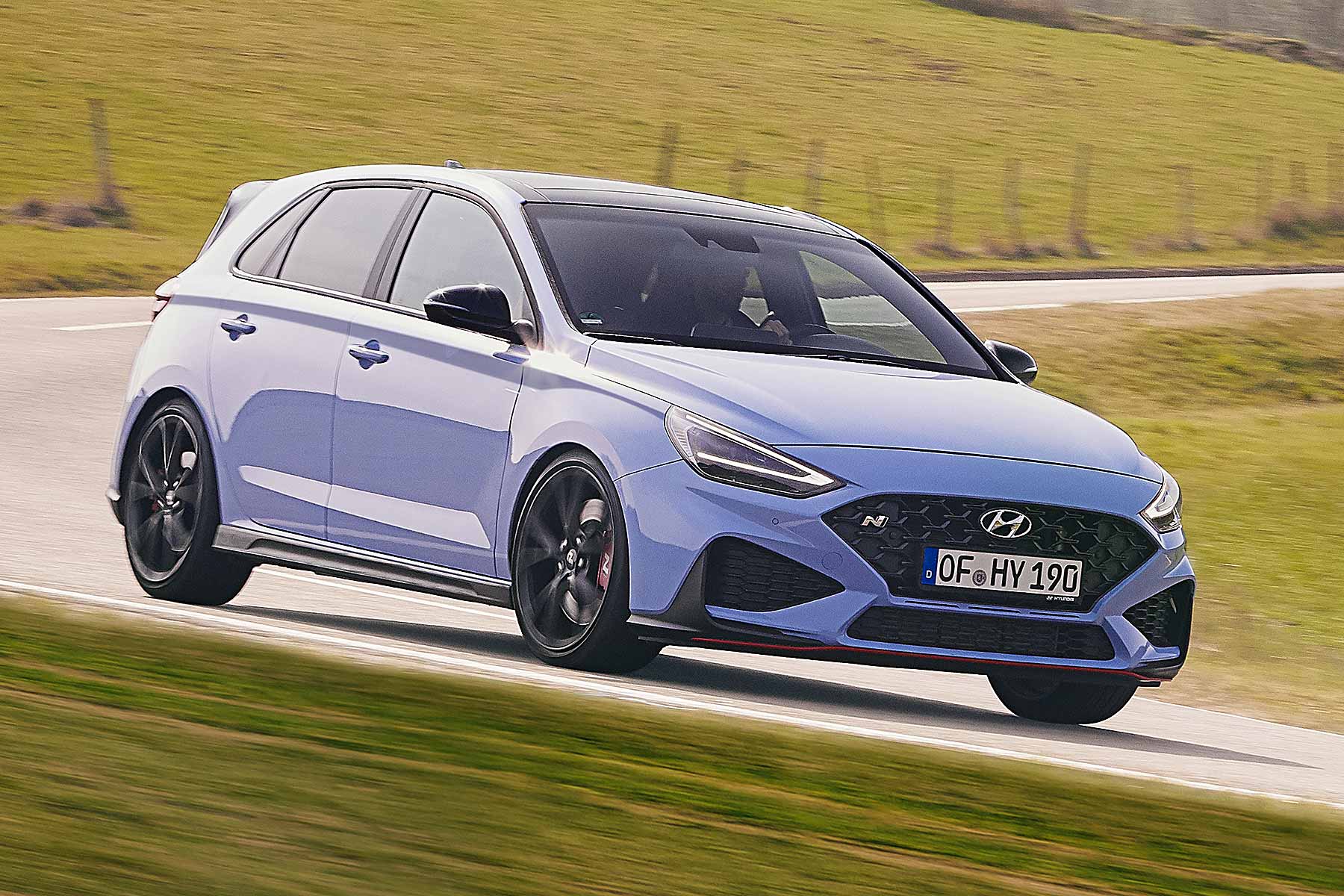 Hyundai i30N
If you're thinking of buying a hot hatch, Hyundai may not be a name that leaps to mind — but don't let that cloud your judgement because the i30N is a great performer. It's a remarkable success story for a manufacturer that not too long ago was knocking out the best-left-forgotten Sonata...
It's powered by a 250PS 2.0-litre turbocharged engine, although the Performance version with 275PS proved much more popular. It's hugely enjoyable to drive, has all the performance you need and handles superbly. Being a Hyundai, it's also a well-built and practical car that comes with a five-year warranty. It was updated in 2021 with a slightly more comfortable ride and better technology.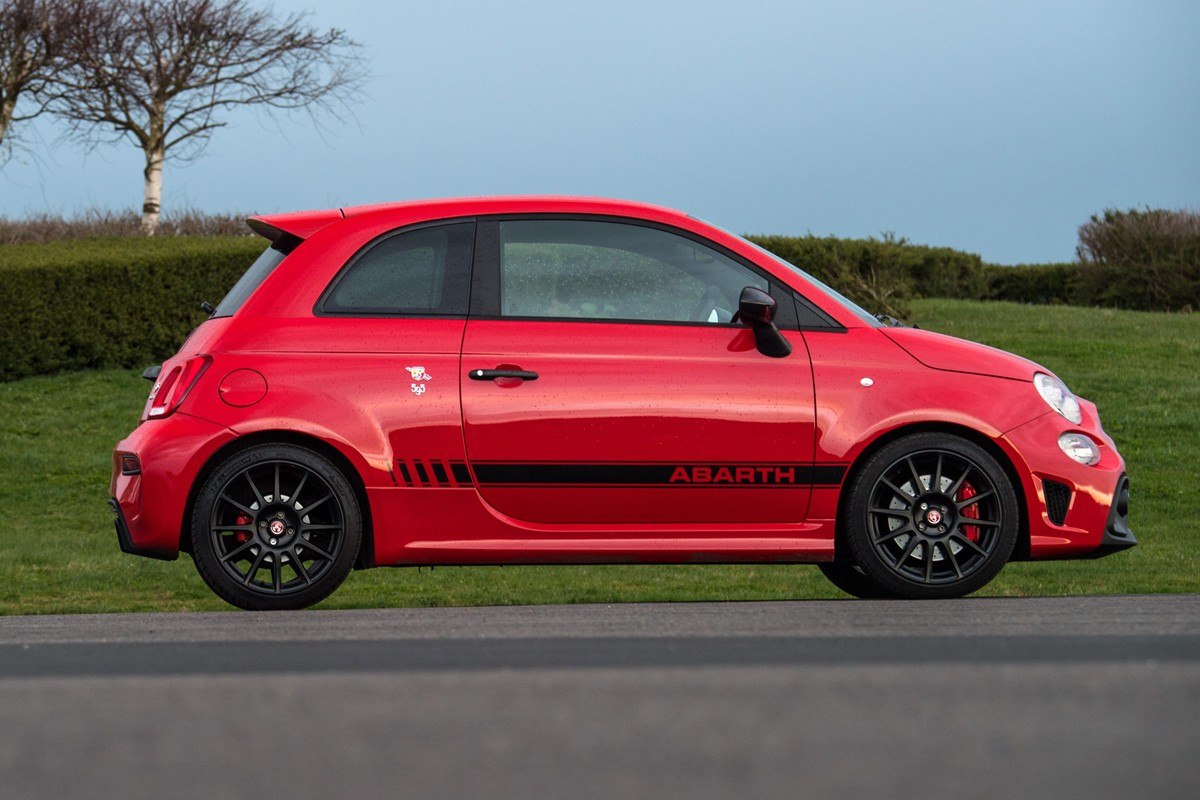 Abarth 595
Hot hatches don't come smaller than the pint-sized Abarth 595, so if you're looking for the perfect sprightly city car, this is it. Based on the Fiat 500, the Abarth 595 is the performance version of the popular city car. And, by the time Abarth unveiled its first hotted-up modern 500 in 2008, the market had all but disappeared — meaning it has no natural rivals and a steady stream of willing buyers who want something ridiculously small and potent.
The little firecracker is powered by a turbocharged 1.4-litre petrol engine with power varying from 145PS to 180PS depending on which model you go for. It can also reach 0-62mph in a sprightly 7.8 seconds. With that said, the Abarth isn't about outright speed, instead, its real forte is nipping in and out of traffic. It doesn't have the best handling or ride in the class, nor is it at all practical — but it's certain to put a smile on your face every time to go for a drive.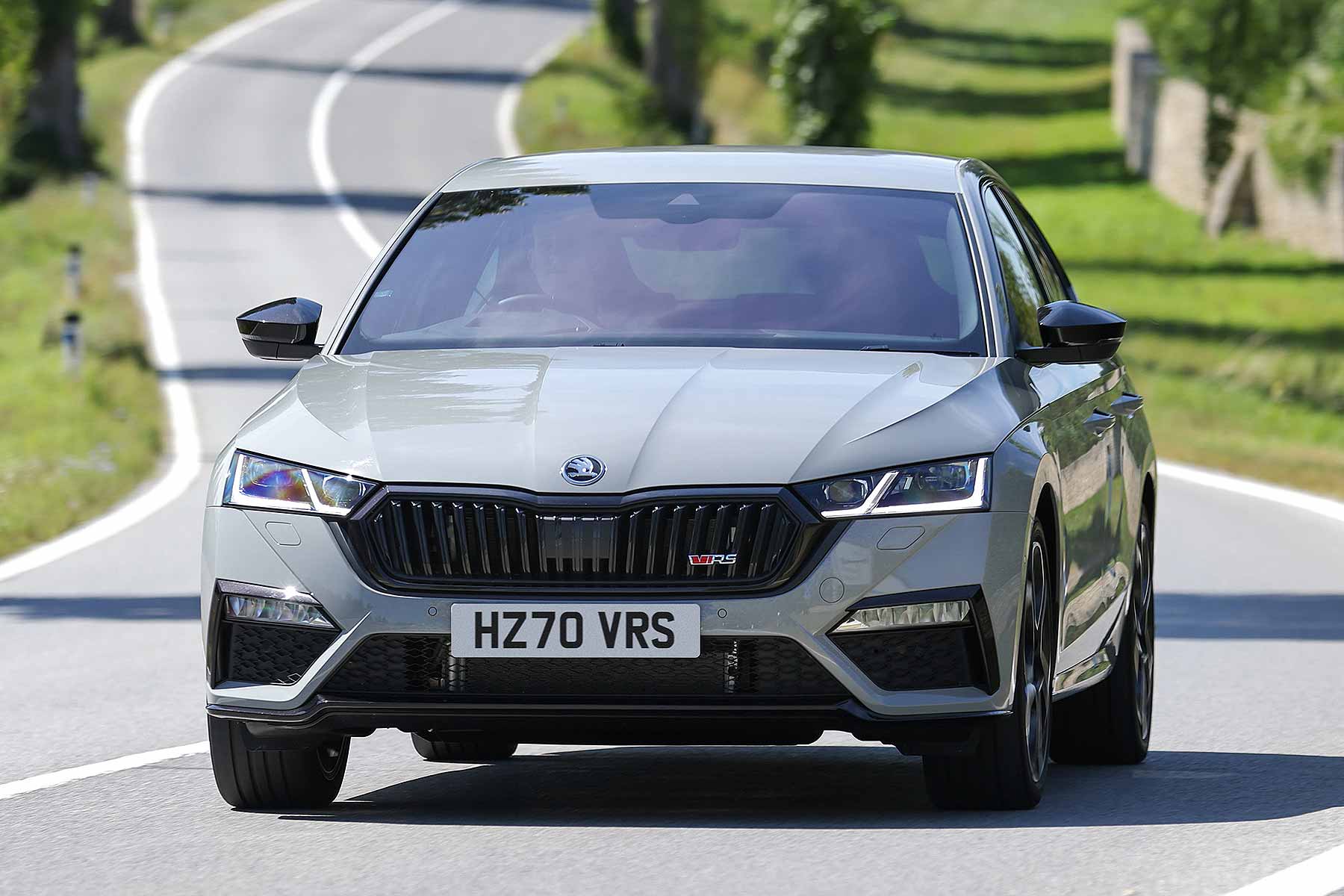 Skoda Octavia vRS
At complete odds with the Civic Type R, the Skoda Octavia vRS sits on the sensible side of the hot hatch spectrum. It's fun to drive when you're in the mood and very comfortable when you're not, as well as offering tonnes of passenger space and a large boot. Powerful but not shouty, it'll fly through most people's radar completely undetected. The same mature approach has been taken on the inside with padded Alcantara on the dashboard and doors, carbon-fibre look trims, mood lighting and aluminium pedals.
Engines comprise of a 200PS 2.0-litre diesel (available with four-wheel drive) that's great if you're on the motorway frequently and a 245PS petrol-electric plug-in hybrid that can slash running costs if you have a short commute. We'd still be inclined to go for the 245PS petrol, which is the only model available with a six-speed manual gearbox. Sure, it's not the most pinned in corners or the most aggressive on the straights, but it has overtaking power in abundance. Who said family cars need to be boring anyway?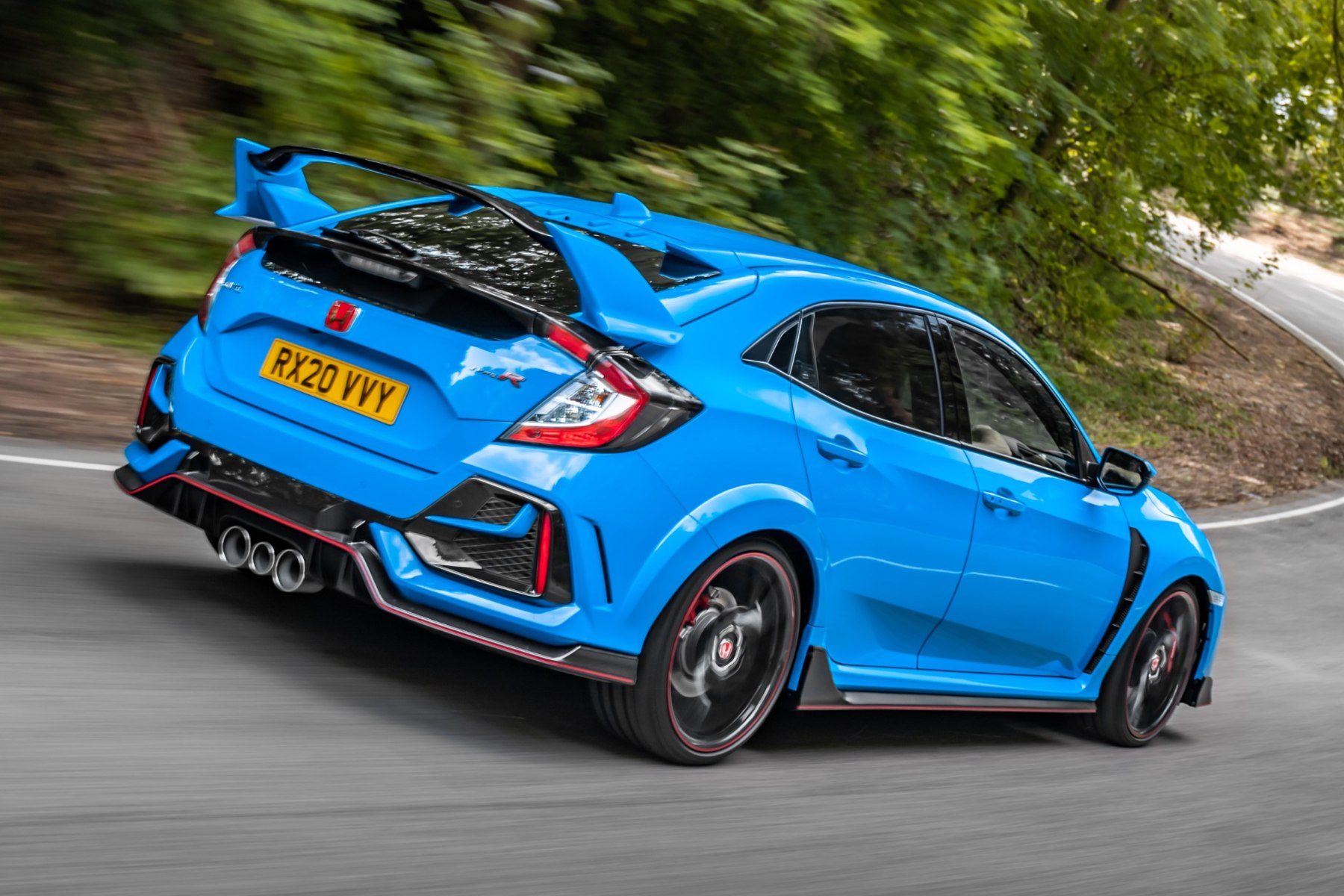 Honda Civic Type R
You'll either love it or you hate the styling, after all, giant spoilers and angular creases aren't for everyone. But the outlandishness doesn't stop at the design, with the Type R offering a potent 320PS 2.0-litre turbocharged engine, a fantastic manual gearbox and a limited-slip differential that gives it excellent and direct steering.
It can be rock solid one minute and soft and cosseting the next, which makes the Honda entirely usable — as does its infotainment screen with Apple CarPlay/Android Auto and a large boot. It also has a massive 400Nm of torque, delivering an exhilarating performance of 0-62mph in 5.7 seconds on the way to a 169mph top speed. Possibly the wildest hot hatch on the market, the Civic Type R certainly isn't for shy and retiring types.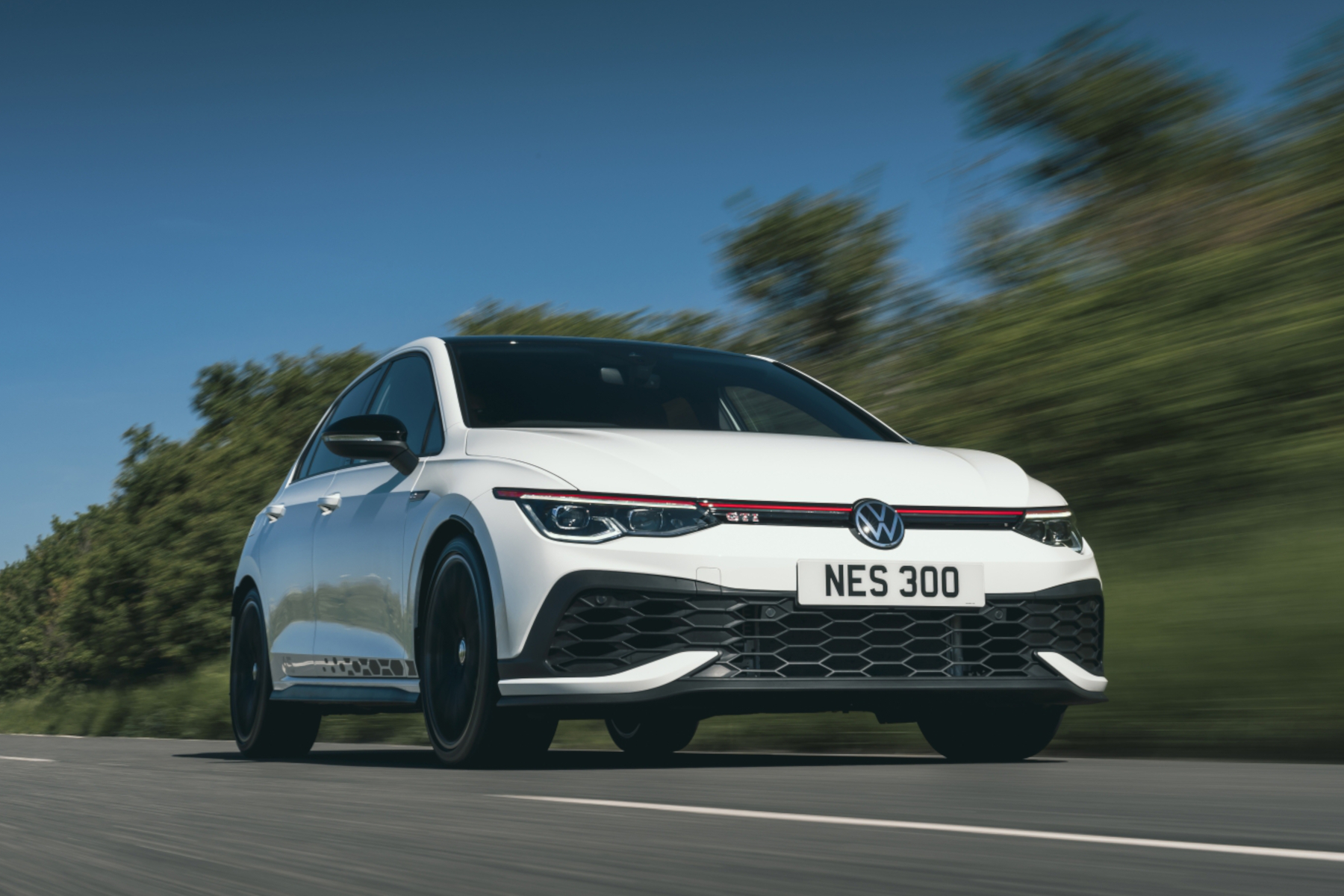 Volkswagen Golf GTI
The Volkswagen Golf GTI may no longer have the market to itself, but it remains one of the most desirable hot hatches around — being responsible for popularising hot hatches and remaining one of the most capable all-rounders. The standard GTI has 220PS but the optional Performance pack models up this to 230PS. More importantly, these variants add uprated brakes and a limited-slip front differential.
All versions feature a turbocharged 2.0-litre petrol engine, while a limited edition Clubsport model arrived in 2016 with up to 265PS on tap. The standard GTI grew to 245PS. The final fling for this Golf GTI was the TCR (Touring Car Racing) and offers 290PS.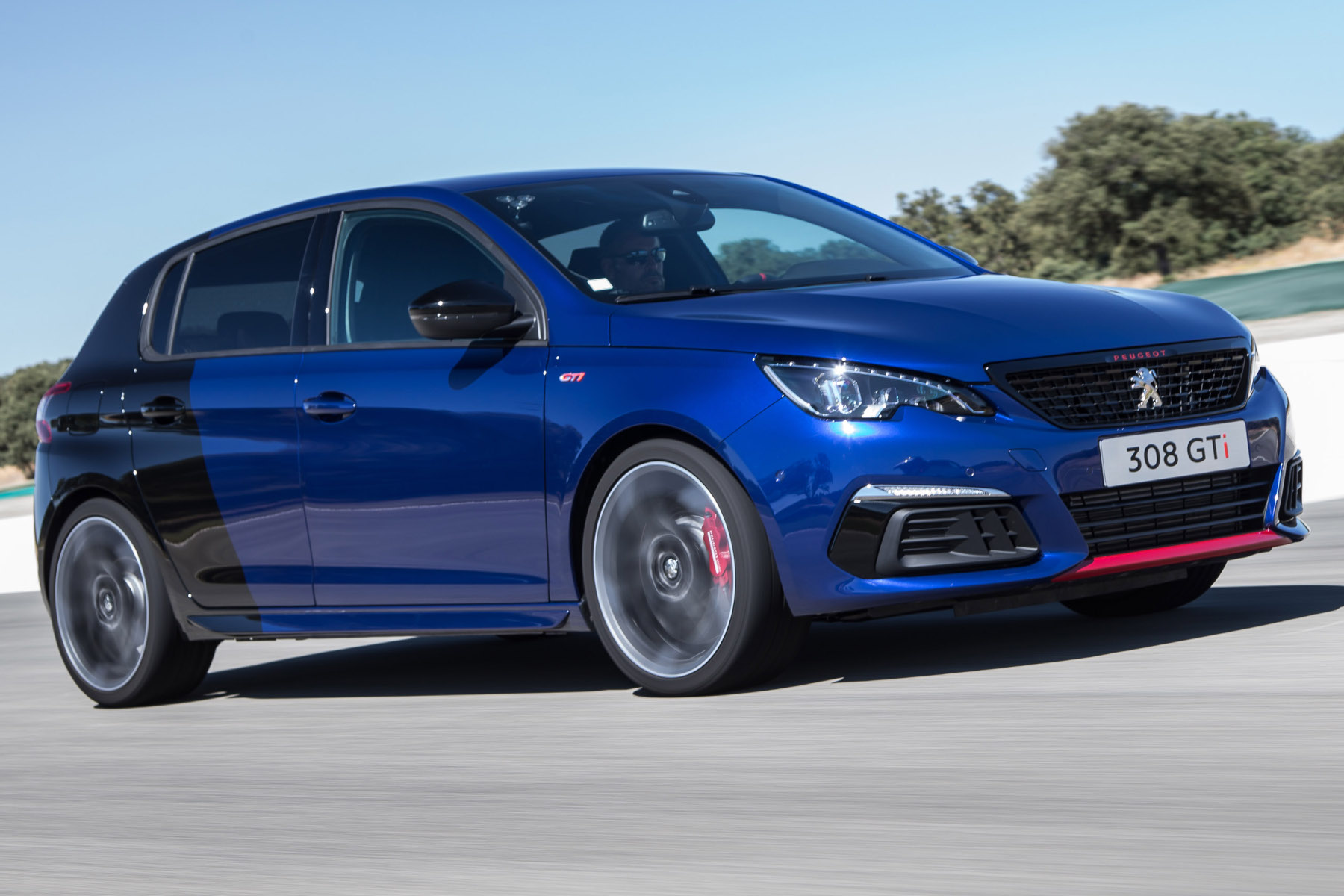 Peugeot 308 GTi
If you like your hot hatches understated, the Peugeot 308 GTi should be on your list. While previous Peugeot GTi models have been disappointing, the 308 hot hatch is a real return to form. The GTi gets a 1.6-litre turbocharged petrol engine with either 250PS or 270PS — with the more powerful model benefits from uprated brakes, larger alloy wheels and a Torsen differential designed to improve traction.
The list of standard equipment is good, too, including full LED headlights, 18-inch alloys, dual-zone climate control, keyless start, auto lights, auto wipers and Bluetooth connectivity. The steering is also precise and well-weighted, though some drivers may not like Peugeot's trademark tiny steering wheel.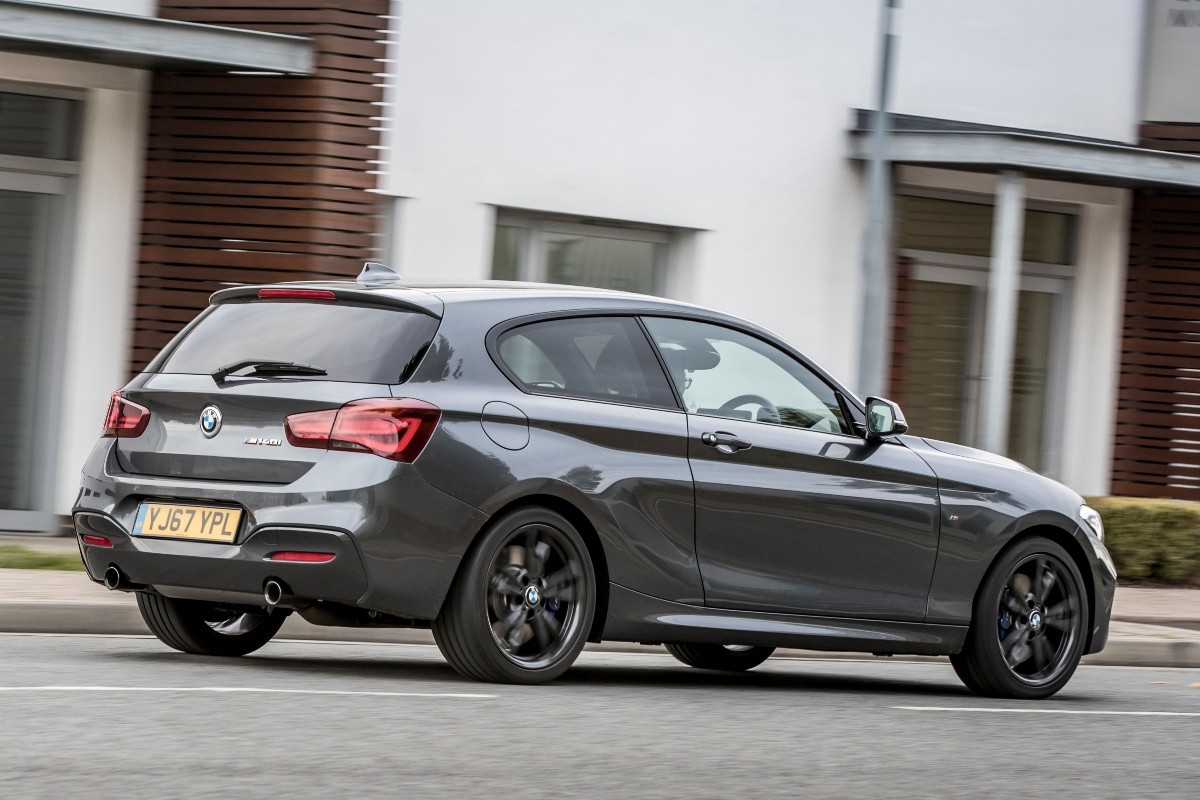 BMW M140i
BMW's take on the hot hatch is quite different to everyone else's thanks to its turbocharged straight-six engine, producing 340PS, and rear-wheel drive. With 0-62mph taking less than 4.6 seconds, it's quicker than most of the cars here — yet it's also comfortable thanks to BMW's adjustable dampers. 
The sporty driving position makes it feel special behind the wheel, while it feels upmarket inside — just as you'd expect from a premium model. The infotainment system is excellent, with sat nav offered as standard. You get plenty of space up front, but the BMW isn't all that roomy in the rear and its boot is quite small.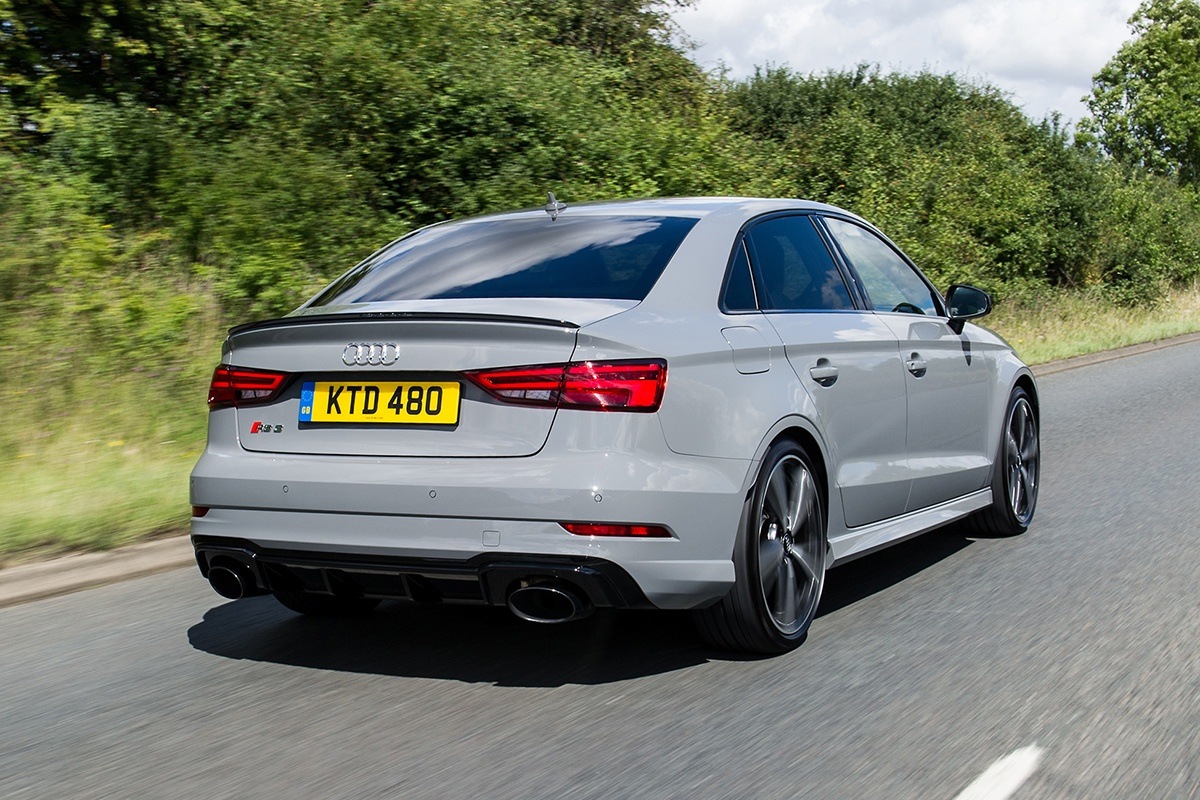 Audi RS3
The unique Audi RS3 is excessive, both money-wise and in terms of sheer performance. If you can afford the £50,000+ price, you'll certainly find it versatile. Few hot hatches can tread the line between dynamite hot hatch and sensible shopping car like the RS3, with its 400PS 2.5-litre five-cylinder engine (480Nm of torque), it can go from 0-62mph in just 4.1 seconds – just a few tenths slower than an Audi R8 supercar. There aren't many cars at this price that let you fly under the radar so well.
The noise it makes also leaves almost as big an impression as the performance. However, that makes up for the fact that pre-2017 RS3's have fairly numb steering — meaning it's not the kind of hot hatch that's much fun to throw into bends. A BMW M2 Competition or Honda Civic Type R provide the same outrageous speed in a more engaging way. On the plus side, as you'd expect for the premium price, it's spacious inside with a practical boot and high-quality interior.